Last updated on November 29, 2022
Spread the Love with 5 Stars!
Feng shui for family happiness is a mind-blowing concept that, in my opinion, every family should know about. Taking a look at the house layout from a Feng Shui perspective is the most important aspect. It's also the most difficult part for many homeowners, so I want to break it down for you. The best way I know how to help you, get a bird's eye view of your home layout plan so you can see where conflict energy may be dragging your family down and where you should put enhancements and cures to move your personal energy skyward.
To Feng Shui a house is a complicated task, and you may be wondering how it affects family happiness. It is not enough to just rearrange your furniture around; you will also need to think about the surrounding environment (poison arrows) of your home and how to improve everyone's luck inside your family unit.
Structure, energy, and human behavior are the 3 components that make up the world we experience in our life. Structure is what we build around us: physical objects and space. Energy is how we use our environment and relate to each other. We often forget that humans are such complex animals that how we behave and interact plays a big part in how happy each of us is in all areas of life. So let's take a look of how to Feng Shui for happiness in family works:
Family Member sections of the Bagua Map (Structure)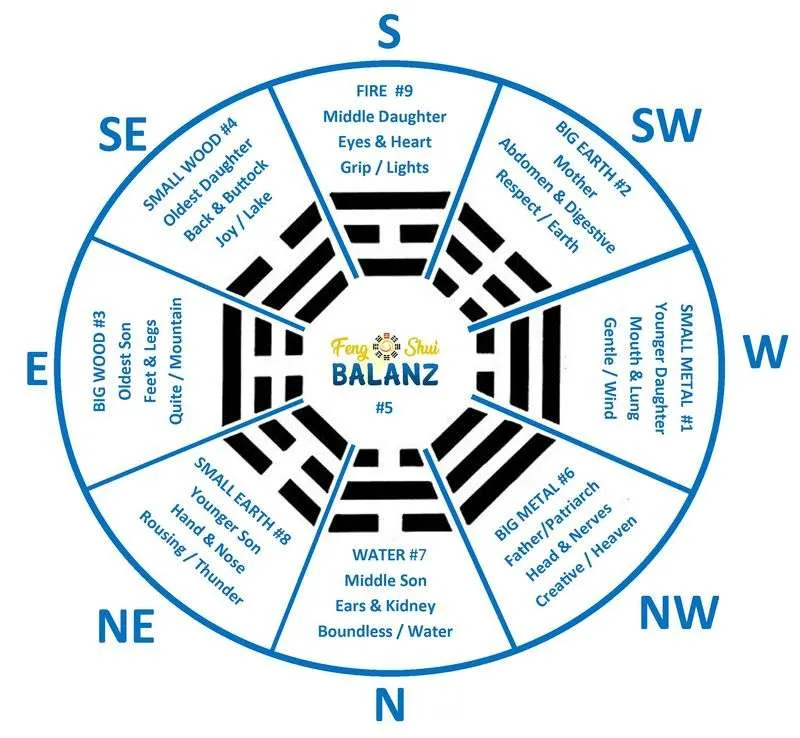 The first step in analyzing the home for Feng Shui family happiness is to check your classical Bagua Map, which reveals the compass degrees for favorable and unfavorable energies of each family member. It is crucial to make sure that no sections are missing and that all areas are balanced for harmony. If you have a family member, who is ill or has health issues, this may be an indication of imbalance in this specific sector.
The following table shows each compass direction and the associated family member:
Middle Daughter: South, Star 9 (Fire)
Mother:  South-West, Star 2 (Big Earth)
Younger Daughter: West, Star 7 (Small Metal)
Eldest Father:  North-West (Big Metal 6)
Middle Son: North (Star 1, Water)
Younger Son: North-East (Star 8, Small Earth)
Oldest Son: East (Star 3, Big Wood)
Oldest Daughter: South-East (Star 4, Small Wood)
Keep in mind that if your layout has any missing sector (must be 33% or more), it does not affect the entire house in a negative way, but only the family member associated with this sector. To illustrate better, if the south sector is missing but you do not have a middle daughter, it will not negatively affect anybody inside the home.
Permanent energy and annual energy influences
Star combination 4-7 for conflict in family
The 4–7 star combination is often known as the "star of dispute" because it tends to create friction between people. This means that you may have a lot of arguments with people in general, but particularly with those who are close to you. As a result, your relationships will be strained, and you may even find yourself being estranged from some of your friends and loved ones.
However, fret not – if you use proper Feng Shui for family happiness remedies, this star combination will have no effect on you.
Star combination 8-7 successful and harmony in family
The star combination of 8-7 is favorable for domestic happiness and attachment to the family. If you are lucky and you do have this combination in your permanent house chart, always activate it for an auspicious energy flow.
Look out for Star of Romance 4 (Peach Blossom) at permanent energy chart
The Star of Romance 4 (Peach Blossom) is a very special star in the permanent energy chart. You are destined to be a great lover. You have a great, loving, and happy relationship with your spouse. Look out for it!
Get rid of clutter
Clutter can block good energy from flowing through your house. Instead of just stuffing things in the closest closet, take time periodically to go room by room and really declutter. Donate items that don't serve a purpose anymore and throw out junk.
Keep the rooms clean
A messy home can bring down family happiness! Make sure that each room stays clean so positive energy can flow through your home. Schedule a specific amount of time for cleaning each day or whenever you notice things getting messy. You can even get the whole family involved by having each member pick one small area to clean each day!
Bring nature inside:
Add a natural element to some sections of your house by bringing indoor plants like succulents or potted herbs into the mix.
Energy and personal behavior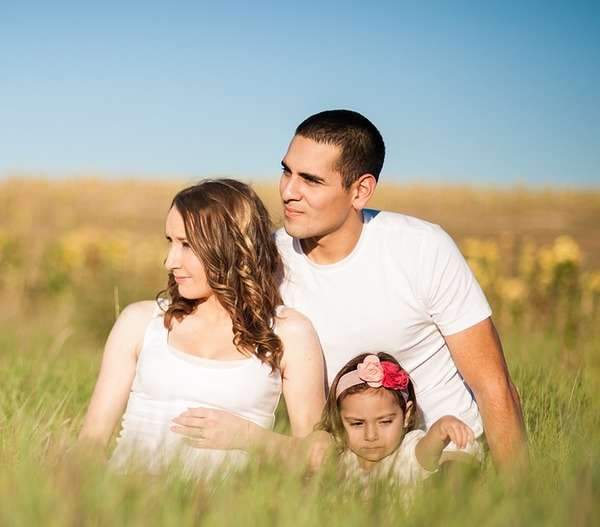 Discover More: How to keep your soul happy
It's a good quote: if the family members are not happy, nothing will go right. It's called the "heart of the home," because what else is more important than your family? Everyone is unique, has own mood and perspective on happiness. The way of doing something may be suitable for you but not for others. Especially if you have children, it is of the utmost importance to do some fun activities once in a while.
After a long week of studies, stuck inside the home during lock-downs your kids might ask, "Daddy, Mommy, what do we do this weekend? A kid likes to do fun activities to stay happy and in balance.
In times when inflation is high and money is tight, many families need to think very carefully about how to spend their budget on leisure activities without getting into debt. I have dug deep into my thinking box to come up with some very inexpensive Feng Shui for happiness in family activities so that you and your kids keep study and pleasure in balance.
Visit a Forest Playground: Playground slides, playground seesaws, and sandpit are waiting for the little ones to have the most fun. In the middle of greens and under the shade, the most extensive children's playgrounds can be found in the forest. Kids love the forest environment much more as regular playgrounds near suburban areas YOUR COST: FREE
Walking a forest trail: Besides the forest playground, a forest provides free nature and adventure to the kids. Walk around or collect pine cones for some crafting activities at home. Many city forests also have treasures hunting games set on specific trails. YOUR COST: FREE
 Walk Barefoot: Kids, by instinct, love to walk or play barefoot. Go either into the forest, a public park, or the beach and walk without shoes. It is actually very healthy for the child as the muscles need to compensate for the uneven ground. Also, the tickling of grass underneath the feet makes it even much more fun. Please, prepare shoes just in case and wash the feet afterward to prevent injuries. YOUR COST: FREE
Visit the ocean/lake/river: A lake, a river, or the beach is a fascinating place for kids. They love to play either inside or next to the water. Playing inside the sand with a bucket, shovel, rake, and molds is so much fun. Children can spend hours like this until all their batteries are drained, getting ready for a nap. Caution: As drowning of children is a real danger, never leave them unattended for even one second.YOUR COST: FREE
Let's have a picnic: Go to a public park and have a picnic. As children have a lot of space to run around and play, a basket of snacks and favorite foods can go along very well. In case you like to barbecue, get a disposable barbecue grill, paper plates with pasta salad and sausages. YOUR COST: 5$-10$
Visit entrance free museums: Many communities do regularly have open-days at museums with no admission fees. Take advantage of these days as you can have all the fun without spending money. The best, check your local event calendar, as these open days are advertised well in advance. YOUR COST: FREE
Day-trip to the local Zoo: Which kid doesn't love to go into the zoo? There are so many animals to discover like monkeys, seas lions, or elephants that fun is inescapable. Also, petting zones for goats and rabbits are widespread for the children to interact with the animals. A zoo visit brings excitement, especially when it comes to feeding the animals. It is worth, for a family, to get an annual pass for the zoo as the individual entrance fee is discounted by more than 90% (depending on how often you go) YOUR COST: $50-$80 with an annual pass
Go Geocaching with the kids: You have never heard of geocaching (read more here)? Geocaching is the world's most significanttreasure hunting game available in all regions of the world, played by millions of people. You need to download their app and open a free account. Yes, it is totally free! Once started, the app will show you via GPS locations where the so-called cache (treasure is hidden). Take your kids on a city or region-wide treasure hunt. Once you find the treasure, sign your username into the log and update your findings inside the app. Sometimes, you will find items you can keep and share. Isn't this a lot of fun! YOUR COST: FREE
Play board-games: In our modern age, where kids always focus on smartphones for entertainment, many parents do forget the power of board-games. In my old days, where no smartphones existed, playing board games with parents or friends was so much fun. Depending on the weather, you can go out into nature, play in your backyard, or have enjoy a great afternoon inside the living room. In my opinion, a board game teaches kids to interact with each other, instead of spending alone time in front of the TV or phone. YOUR COST: FREE
Aim high – go to a high-rise building to enjoy the view: An excellent free Feng Shui for family happiness trip is to explore a great city view is to either go to a low-cost observation desk or go to some regular high-rise buildings and watch the city from the rooftop. Take binoculars with you as the kid will have a lot of fun to take a look at all the buildings. YOUR COST: FREE (maybe 5$)
Bad weather tip: If it is raining dogs and cats on the outside, traveling by bus or train is a great way to explore your neighborhood. Usually, children under five do not have to pay anything for a bus or train ride. As kids love to explore their surrounding, watching out of the window at the rain is existing. Another advantage is that you can rediscover your city. There is always something new on the other side of town. You might even see new places to go for the next time. YOUR COST: 5$-10$
Volunteer with the kids: Volunteering is a great way to teach your children, early on, that good deeds make them a better person. You can grab some bags from home and head to the beach or river and collect trash. During the trash collection, it is effortless to teach the importance of green nature and how sensitive it is. Another option could be to visit the local animal shelter and ask for volunteering. The animal shelters are always happy when the dogs/cats have somebody to play with or taking them out for a walk. YOUR COST: FREE
Visit a farm: Visiting a farm is another great and cheap family outings way for the children to interact with animals. Many places do have special petting areas with goats, horses, or cows. It is also highly educational, having a farm tour that explains how milk is processed and why it is so healthy to drink it. Also, some will offer horseback-riding as well. YOUR COST: $5-$15
Excursion to the airport: Make a trip to the next airport, which is not only exciting for the younger ones, but also for adults. Many airports do have an observation deck to watch airplanes departure and land. In case, the airport charges extraordinary fees, drive to a nearby place outside of the tarmac to watch instead. Make sure that your tire pressure is good to save on gasoline and to have a safe trip YOUR COST: Gasoline, observation deck fee, parking fee
Make a bicycle tour: Bicycling is good for health and saves money as it doesn't cost anything. Plan a bike tour on a forest trail, public park, or bicycle along the river. Please keep in mind the limits of the child. Please do not make a bicycle trip that is too long as, at some point, it will not be any fun anymore for the children. YOUR COST: FREE
Visit a Library: Many parents underestimate the pleasure of children at a library. You can browse thousands of books, but also many educational toys are available to spend an entire day here.
Visit Rehearsals in theater or concert halls: Many performing places allow people to watch their rehearsals for free. Please check beforehand with the establishment if it is permitted and at what time the rehearsals will start. YOUR COST: FREE
Visit or sell on a flea market: On flea markets, a person can spend hours looking at the most unusual items people do sell there. It is quite fun for a teenager to discover things that they have never seen before. In case you like to buy something, negotiate as the prices are not set. In case your storage is full of old things, take your kid on a flea spree to sell and earn some money. YOUR COST: FREE
Go out and play sport games: Depending on if your kid loves baseball, football, or basketball, many city parks offer sporting venues to use for free. Play a round or two before taking a break and continue until everyone is exhausted and ready to go home. YOUR COST: FREE
Go Camping: Camping is a great weekend getaway, which doesn't cost much. At home, you can prepare all the supplies and only the campground fees a parent needs to worry about. A good place is always next to a river to take a refreshing dive into it. YOUR COST: Camping-site fees
Feng Shui for happiness
in Family

: Cutting Expenses
Unfortunately, Feng Shui for family happiness also involves money. If you are struggling with your finances, nothing will make you feel better.  You can take action to improve the situation. Money may not make you happy, but it sure makes it a lot easier to deal with life's ups and downs and is important for your family's well-being. The fact is, money can buy you the time and space to get through difficult periods in your life. Here are some ideas for cutting expenses:
Create a Cooking Plan: Create a weekly cooking plan which saves time and money. You always can adjust the plan according to groceries on sale
Cook with Pot Lid on: Cooking with a lid saves up to 30% on electricity cost. Besides, a good energy-efficient stove is a must.
Store Food Correctly: If food is not stored correctly, it will not last very long. Therefore, freeze any food leftovers right away and close very well all open ingredients sachets and food containers airtight.
Eat cheaper in Canteens: Many bigger department stores or district government offices have canteens that are open to the public. Eat there as it is much cheaper as eating out in restaurants.
Eat own cooked food at work: While working you can easily spend 5 – 10$ on your lunch. Simply, cook at home the evening before and bring it to your workplace the next day. Many companies offer a free fridge to store the food, and a microwave to heat it. A potential cost saving of over 1200 – 2400$ a year!
Create a vegetable / herb garden: Buying herbs and vegetables in the supermarket cost a lot of money. Especially herbs are very easy to take care of and do need only a little space. If you have a bigger garden, plant seasonal vegetables and do not forget to have also some fruit trees.
Get a Water Filter: Bottled water is very expensive and in fact just regular unfiltered spring water. Big companies make a fortune on bottled water. Get either a tap water filter or a water filter for the whole house
Do not drink coffee capsules and pads: They are very expensive and run at least 50 Cent a piece for one cup of coffee. Rather get a good filter coffee machine that uses coffee ground which cost only around 8$ per lbs.
Food-Sharing (Buy in Bulk): Buying in bulk is always cheaper as buying smaller quantities. But, what to do if you the quantity of the packages are too big? Simple, talk to your friends or neighbors and share the food or toiletries products.
Get Printer Refill Cartridges: Original printer cartridges are killing you. Therefore, opt for good quality refill ink from third party manufacturers. A saving of up to 90%!
Replace bird sand: Cage sand for birds is incredibly expensive. An cheaper alternative is the quartz sand from your local hardware store
Divide the dishwasher tabs into half: Incredibly, also half the tab will do its job. It saves 50%
Selling old stuff: Everything that never has been used for over half a year can be sold without worries. It makes your home glutter free and provides extra income.
Make your own furniture: A scene has developed around the wooden pallet furniture building. Get a little bit creative and get inspiration on YouTube for more suggestions.
Invite Friends instead of going out: Having gatherings at your place is quite fun and everybody can give their share of food and drinks.
Be creative and make your own gifts: There are so many DIY crafting ideas out on the internet. Numerous instructions explain in fine detail of how to make certain things.
Save on hair cutting: Ask around if somebody has a talent to do your haircut. If nobody can do it, many hair salon employees do cut hair as a side-job.
Make Sour-Cream last twice as long: Store the unopened Sour-Cream upside down, it stays fresh twice as long
Eat less meat: Firstly, too much meat is not healthy for the human body. Secondly, meat consumption can add up being very costly. Rather, eat more vegetables and eat less meat.
Make your own fertilizer: Doing your own fertilizer is pretty straightforward and easy. Markedly, you go organic and help the environment
Go to Flea Markets: A flea market is a wonderful place to find very cheap stuff. Especially you can buy kid toys at a very inexpensive price as the seller's kid might have outgrown already. Do the same once your kids do not use the toys anymore to earn some extra income.
Search on Classified Pages: Many local classified pages such as eBay Classified or Craigslist are also a great way to get bargains. As the price is not set, negotiate as there is no tomorrow. Many sellers are very happy to give a deep discount just to get rid of the items.
Bartering Portal Sites: Many people offering some items in exchange for another item they like to have. No money is exchanged, so it is a great way to look for something you need and give-away items that are collecting dust in your home.
Second-Hand Shops: Another great way to get clothing for cheap. Nowadays, very good clothes are thrown out as trends do change and people like to wear only the latest fashion. A potential saving of over 50% is possible.
Online Shopping Daily Deals: Many online shops or shopping sites do offer special daily deals. Check them out as many times some hidden gems are offered here.
Never go grocery shopping when hungry: When being hungry you tend to buy more as necessary. Don't do it! Eat before heading out to avoid this pitfall
Make a shopping list and obey it: Once you have your shopping list, you can focus on the items you really need. In fact, over 50% of shopping is done on impulse.
Buy only Fruit / Vegetables in Season: Seasonal fruit/vegetables are much cheaper to buy as there is no need to import them from somewhere else. The shorter the traveling distance, the cheaper they are.
Check Grocery Deals: Many supermarkets do have weekly special offers such as Buy One Get One free or deep price cuts. Check online or via your local newspaper and buy in bulk.
Compare Prices & Deals: Do not rely only on one supermarket for your shopping. Many people do it because it is convenient, but do overpay a lot of money. Check and compare what the competitors of your favorite supermarket are offering. You will be surprised as prices can differ a lot.
Get Family Card Discounts: Be it at the public water park, attractions or cinema, many places do offer yearly family cards that bring a saving potential up to 40% compared to a regular ticket
Make us of Happy Hours: Not only bars and clubs do offer happy hours, but also butchers and bakeries sell at the end of the day their items for a discount.
Buy White Label Products: White Label products are cheaper as branded ones. Here a little secret: Many famous manufacturers do produce for big supermarket chains the white label products. Yes, you are buying a brand product without the label. As no advertising is involved, these products are bottom cheap.
Collect Coupons and use them: Coupons are a great way to save money in many ways. Always keep coupon you get for your next shopping spree
Pay only in Cash (Say good-bye to credit cards): Using a credit or debit card makes you spend cash quicker. It is proven by numerous studies. Further, you do not have an overview of how much you have spent during the current billing period. Cash is easier to track and avoids more impulse buying.
Public Library: Go to public libraries and rent books, movies, CDs, or games. It is cheaper as buying them and selling them afterward in used condition for little money
Borrow from Friends / Neighbors: There are some times, that you need a tool to fix this or that, but don't have it. Instead of buying it just for once, borrow it from a friend or neighbor and return it in good shape after your little problem is fixed.
Rent a Car: Having a car cost a lot of money to maintain such as gasoline, taxes, insurances, and repairs. Simply, rent a car if the urge arises.
Collect Rain Water: Get a big water container to collect rainwater when it is raining. If you have a garden, it is very suitable to water your plants from the collected water.
Shower instead of taking a bath: Having a short shower over taking a bath saves up to 300$ in water cost per year. Also, get a water-saving shower head to further reduce the cost.
Toilet Flush: Most modern toilets do have an economy water flush. This is very helpful to reduce water consumption while flushing
Washing Machine/Dishwasher Saving Mode: If the laundry/dishes are just slightly dirty, use the Eco-mode (short program) instead of the full mode. It is often enough to clean throughout.
Forget about Laundry-Dryers: Dryers for laundry are energy eating monsters. Instead, hang the clothes outdoors to dry. Cost zero and works the same as a dryer.
Save on laundry: Never wash anything over 60 degrees as it is more than sufficient to even clean the most stubborn dirt
Use less laundry detergent: If the laundry is not that dirty, add less and it saves up to 50$ a year.
Buy Clothing that is laundry washable (avoid dry-cleaning): When buying new clothes, never get any material that needs dry-cleaning. It cost a fortune and add up easily to more than a couple hundred bucks a year.
Save on Telephone Cost: Use Skype or whats-app instead of talking over the regular phone.
Get rid of Cable TV: Cable Television is incredibly expensive to have. A starting package runs from 30$ up to $100 a month. Get your favorite shows and series from Netflix for only $12 a month.
Throw out your TV and read a book: To skip TV for some time saves quite a lot of energy. Instead, read a book, play board games or meditate.
Unplug not used Electrical appliances: Even if they are not used, they still consume electricity as they are in standby mode.
Get rid of old power guzzlers: Old appliances such as fridges, TV, or computer are very power-hungry and cost a lot of money. Replace them as soon as possible.
Use electric water heater: Do not boil your water on the stove as a kitchen water heater saves around 50% of electricity.
Switch over to use LED bulbs: LED bulbs only consume 5-10% of energy as a regular light bulb. The purchasing cost can be recovered after only a short time.
Don't just focus on one airport only: Check and compare prices from different departure airports. The more flexible you are, the more you can save on travel costs.
Do not travel during high season: In high season the prices literally jump up 50% or higher. Try to travel in the low season and enjoy a more peaceful surrounding with fewer tourists.
Avoid weekend getaways: The prices of flights and hotels are always more expensive during weekends than during the week. If you are flexible, you can also save a lot of money.
Book as early as possible: The earlier you book in advance, the chances of bargains are very high. Many airlines do calculate their prices based on occupancy rates. To demonstrate, the fuller the airplane is booked, the more expensive it will get to get a seat on this plane. Likewise, the same applies to hotels as well.
Check out Last Minute Deals: Many travel companies lure you with rock bottom prices on package deals. As they have already reserved all the accommodation well in advance, they do not like to pay for an empty seat or room. Therefore, travel companies are willing to give you a good deal for little money.
Compare Prices: Of course, you need to compare all tour company's pricing as well as different hotels and airlines. Be patients and compare without rushing.
Book Home-stay instead of a Hotel: A very popular site is Airbnb where private people offer rooms, apartments, or even whole houses much cheaper as hotels do.
Prepare food for traveling: For longer trips by car, we highly recommend preparing some food beforehand. So far, we haven't seen any affordable resting areas (pit stops) to eat or buy drinks. Food and drinks in parks or zoos are incredibly inflated. Here, also prepare beforehand at home to save money.
Save on dog boarding: A dog sitter is much cheaper than bringing your dog to a boarding place. Another advantage is that the dog sitter checks your house and adjust your curtains/blinds twice daily. It gives the illusion that still somebody is at home.
Enjoy Nature: An inexpensive alternative to an amusement park are trips into nature. A lot of forests do offer adventure playground for the kids.
Take advantage of family days: Regularly, parks or museums have family days offering a lot of discounts. In addition, a lot of times the entrance fee is free or at a steep discount.
Take the train instead of a plane: The plane is usually convenient and faster, but also more expensive. Do not just focus on the plane ticket only, but also consider the cost of getting to and from the airport by taxi or public transportation. In addition, kids older than 2 years (age can differ from region to region) do have to pay the full airfare price like an adult. It is often much cheaper for a family to travel by train.
Compare gasoline station prices: Also, keep an eye on for the cheapest gasoline station near you. Some no brand stations offer savings of up to 5 cents/liter but require cash payment only.
Check tire pressure: Driving with normal tire pressure, let your tire last at least 20-30% longer. As you know, replacing tires are not cheap.
Do Carpooling: Does your colleague lives nearby, then carpool with him. Change weekly who drives to save cost on car maintenance and share the gasoline cost.
Sell your car and use public transportation: A car costs a lot of money to maintain. Instead of spending all the money in a car, use public transportation instead.
Economical driving style:Use your shift gear earlier and do not wait until the engine starts to hauls. Also, turn off the A/C as it saves you 2l/100km
Buy a smaller Eco-Car: Having a big SUV gas guzzler instead of a smaller Eco-Car is very cost-intensive. Everything, starting from the purchase price, gasoline usage, maintenance cost, taxes, to insurances is much more expensive as an Eco-Car.
Change your tax class: In many countries, when you are married and have kids the government lowers the tax bracket. Make use of it!
Buy used instead of new: Newborn babies and kids quickly grow out of their clothes in a matter of months. Why not go to the flea market or second-hand shop to buy used, but good quality shoes and clothes.
Buy brand toys (better for resale): Look out for brand toys only as they are much easier to sell as no-name toys. To also point out, brand-name toys have much better quality, are safer for the kids, and do last longer. A lot of times, no signs of wear and tear are visible making it a much better choice to resale later on.
Use the city library: In many parts of the world, city libraries do rent out kid toys and educational learning books. Take advantage of this offer as it is for free.
Cheap diapers via the Pampers benefit program: Please register for the Pampers benefit program. They regularly give away samples and discount coupons. Currently, Amazon and Pampers Diapers do have a partnership program that offers a lot of savings on a regular basis. Check it out!
Baby Sling instead of a stroller: Baby Slings are much cheaper as strollers. Another advantage of the Baby Sling is that the baby has always a skin to skin contact and falls asleep much easier.
Give Fruit pulp instead of fruit jars: The baby fruit jars are quite expensive and contain a lot of chemical-based food thickeners. A much healthier and cheaper choice is to make your own fruit pulp for the baby.
Use family discounts: Always be on the lookout for family discounts on admission and fares
Buy larger Medicine Boxes: Try to buy larges sizes of medicine as they are most of the time cheaper as smaller sizes. In addition, ask your pharmacist for generic drugs to save money.
Get Glasses instead of Contact Lenses: A lot of health insurances do not pay the cost for contact lenses. Indeed, they are very expensive being paid out of your own pocket. Instead, get a good pair of glasses that last many years and your insurance will also help out.
Family Liability Insurance: Get a family liability insurance instead of individual ones. The family insurance package is always cheaper.
Change Health Insurance: The benefits of health insurance are quite similar, but the coverage cost can be quite different. Compare and if necessary change to a cheaper insurance company to save cost.
Use an Online-Bank: Online-banks have a much lower fee structure as regular big bank branches. They offer the same services, but for a cheaper fee. A lot of times even the checking account is free of charge.
Invest only via EFT for long-term wealth: Many banks or financial advisers try to lure you into mutual funds just for their benefit of charging extremely high fees. On the other hand, EFT's are very low cost and might have a higher return rate.
Filter coffee machine that uses coffee ground which cost only around 8$ per lbs.
Final Word for Feng Shui family happiness
Taking care of your home and family is truly important. I hope this post will guide you in the correct direction to create positive energy for happiness in your home. If you are too busy to do this on your own, I can help. Book a consultation today and start enjoying a happier and more prosperous family life in no time!
Spread the Love with 5 Stars!