Virtual Feng Shui Consult Package (worldwide)
Classical consult (NO black hat tactics or symbolism)
Appropriate for anyone living in a single-story residential home (up to 2000 sq ft or 185 sq m; if home is bigger, please choose the PLATINUM PACKAGE HERE)
The Feng Shui consult is done via email communication
A comprehensive package suitable for use in any country or region of the world
Enjoy the best Feng Shui environment possible for a single story residential home
Book your audit in under 3 minutes and avoid studying for 5 years or more to learn authentic Feng Shui that works!
It's always preferable to make adjustments in a favorable Feng Shui setting, whether you wish to advance your profession, family, or personal life. Occupants who are surrounded by supportive and auspicious energy will undoubtedly resolve many present problems, whether they are minor or major. Energy, the driving force of the global Qi, permeates the entire globe. A residence isn't an exception. By far, we spend the majority of our time at home, whether it's to rest after a long day at work or to simply live life to the fullest.
There is no doubt that unfavorable energy has the ability to degrade this happiness and satisfaction in a variety of ways. A person's emotions and behavior can be affected by Qi. The blood vessels of the body act as the external antenna for Qi absorption and radiation. The body can produce a number of undesirable behavioral patterns, such as getting sick or constantly arguing at home, if the incoming signal vibrations are unfavorable in any way. Everyone should feel safe and balanced at home, therefore the proverb "Your home is your castle" should still remain true.
Please note that, while we believe in providing an honest classical Feng Shui consult, we DO NOT SELL COMMERCIAL FENG SHUI REMEDIES.
Our Classical Consult Strategy:
A professionally and properly done Feng Shui consult always begins by examining the home's exterior surroundings first. Because 70% of external qi energy influences the indoor energy flow, a better understanding of the effects has to be undertaken. A property owner or renter may have little or no control over the surrounding environment to make changes, but it will help to understand why particular energy circumstances exist. This type of analysis is known as San He, or "form school." which we implement into our audit process.
Following the completion of the comprehensive exterior scan, we investigate aspects of the interior energy flow.The calculation of the stars (flying stars), which are in fact just synonyms for different kinds of energy vibrations, will tell a lot about the home's overall character. In traditional Feng Shui, the living room, bedrooms, study or workroom, and front door are considered to be the most significant spaces of the house and should therefore have the most auspicious energy.
Since yin and yang must continually be in harmony, there is no such thought as a perfect Feng Shui home. Said differently, there will always be an equal number of good and bad energy sections inside a dwelling. The purpose of a Feng Shui consult is to enhance the positive parts and neutralize the impact of the negative ones. This can be done by placing inexpensive remedies and enhancers in the area to manipulate the permanent energy.
Thus, enhancing the good aspects and reducing the negative effects are the main goals of a professionally done audit.
Key features of the Feng Shui Consult Diamond Package:
When it comes to conducting a successful Feng Shui consult, there are several factors to take into account. In fact, everything is created from scratch because each person's circumstances in a particular home are as unique as our human fingerprints. Our written report is solely based on this particular property and its residents only. If relocating to a new location necessitates writing a completely new report because the circumstances have changed. An outline of the contents of this consultation package is provided below:
Evaluating the exterior benefits or drawbacks of land or building features (poison arrow, sheng qi, sha qi)
Determining the home's precise center (you'd be surprised where the center can sometimes be found)
Calculating the precise Classical Xuan Kong Flying Star pie chart using the construction date and precise compass direction (energy chart for floor layout, one story)
Examination to ascertain whether the building and property are shaped in an auspicious or unlucky manner and to offer suggestions for potential remedies.
Look into the residents' family dynamics to determine whether there are any energy conflicts here.
A thorough study of the classical energy map with specific remedies and improvement suggestions
Utilize your own positives and avoid negative directions (best direction for working, relaxing, and sleeping).
Check to see whether someone is under the influence of the "draining direction," which means their energy is constantly sapped and they are incapable of archiving anything.
Money-related issues: Evaluate the exact compass degree position of your personal universal money savings account location and look for any conflicts where money is drained out (money in, money out).
Activate the current wealth-star energies for better career and business opportunities.
Best position to work for career and business advancements
The personality of the house: Is your house prone to drama, addiction, robberies, ongoing legal issues, divorces, or separations? We will check and advise on proper solutions to suppress it.
Family Life: If you're single, we can explain how to utilize peach blossom energy to attract dating partners; if you're married, we can disclose how to counteract any energies that can lead to adultery.
Look for any flaws in the interior design and offer suggestions on how to fix them to improve the flow of good energy.
Give specific recommendations for what elements (wood, fire, earth, water, and metal) should go where and what should be avoided, room by room or sector by sector.
For our clients only, we provide a thorough PDF guide detailing what constitutes a cure and what does not (5-Element Theory).
Give the precise locations of water feature placements to increase money and people's luck.
A brief Bazi or Star 9Ki assessment to determine the elements of one's birth chart and assess their potential influence.
The best room selection for family members to absorb favorable energy settings.
Initial annual influences (annual energy)
How does a Sample Page of the Audit Report look Like:
A detailed report containing three PDF files:
1st file contains the general explanation and FAQ for the 5-Element Theory to place remedies and enhancements
2nd file contains a step by step approach of how to do a correct compass reading and drawing a good floor plan by hand
3rd file comprises the actual Feng Shui consult report which ranges anywhere from 15 to 30 pages

Price for House Feng Shui Consultation with FengShuiBalanz
The price for a house Feng Shui consultation depends on the precise dimensions of the home. A thorough written report is normally completed in 10 to 14 days. Because there are hundreds of minor details to consider, preparing a precise and accurate Feng Shui consult report is a difficult and time-consuming task. Even ignoring a few tiny details can have a big impact on a person's life. Therefore, we do not rush things and thoroughly examine each report by verifying it with our four eyes.
In actuality, a virtual online audit is far less expensive than an in-person assessment. Why? Because we always use a two-step method during an onsite visit, we first go to the property and inspect everything. After finalizing the onsite visit, we return to our office and complete the necessary homework for in-depth evaluations. After that, we return to the customer and go over each detail of the report individually.
Of course, this is very time-consuming and adds to the cost. On the other hand, a virtual Feng Shui consult over the internet is much more time-efficient than our onsite visit procedure. As a result, the price for house Feng Shui consultation has been reduced significantly.
Why trust Fengshuibalanz?
Many so-called gurus on the internet believe that all it takes to provide a Feng Shui consult is a quick weekend training in this subject. The lack of experience will frequently become extremely evident very soon if things do not get better. We only conduct a small number of consultations at once because we genuinely care about our clients. The waiting period could occasionally be a little bit longer after scheduling this consultation. We take our time and treat it with the same respect as if it were our own house.
We adhere to our own very strict and high principles: Quality over Quantity!
Years of training with grand masters from Holland, Singapore, and the USA.
Use of precise compass direction to determine the home's facing and sitting positions.
In-depth, hands-on instruction in classical Feng Shui training to achieve the best results possible.
We strictly adhere to the qi flow guidelines of the classical Feng Shui school.
We do NOT recommend any symbolic remedies that are not effective.
All of the solutions we offer for improvements are affordable and can be bought at any home improvement store. However, if you already have remedies based on the element (5-Element Theory), you can use them instead of purchasing these.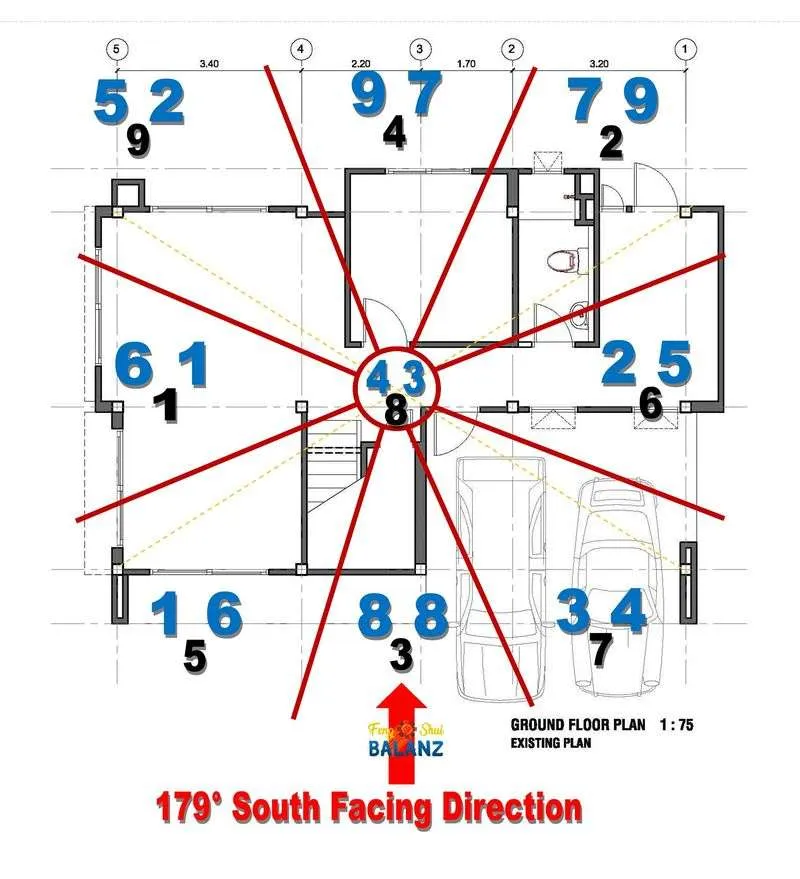 Only logged in customers who have purchased this product may leave a review.