Feng Shui Questions: Ask us one personalized question
There are occasions when you might not be prepared to conduct a whole consultation and may only have a single Feng Shui question to ask regarding a specific situation that is currently occurring in your life. Generally, we don't charge for typical Feng Shui questions, which we answer for free. However, if the inquiry is very personalized to your situation, we would need to look into it more. A general response in such a situation would under no circumstances help resolve the matter.
Asking your own Feng Shui-related queries is a terrific approach to receiving highly specific and expert guidance. Online articles regarding a certain Feng Shui topic are typically written using general terminology. However, because every single house and its people are different, we cannot merely rely on common internet recommendations.
You can ask us one specific Feng Shui question at a time. Please understand that we can only answer one inquiry at a time. If you have numerous inquiries, it would be beneficial to think about scheduling a thorough consultation to address all of your individual concerns.
Ask Feng Shui questions that we answer for free:
We will answer general-term Feng Shui questions for free. Here are some instances where we don't ask for payment. Use the contact form to get in touch with us if your query falls within this category:
Any questions about black-hat Feng Shui, like: "I have a toilet in my wealth area, what do i do?
Are crystals helpful to redirect the energy flow
What lucky and unlucky home numbers exist?
The best mirror placement inside the bedroom
What should I do if my bed is beneath an sloping ceiling?
Do you think it's bad to live next to a hospital, police station, or fire department?
What should I do given that the door to the toilet is immediately across from where I sleep?
Which color front doors look the best?
The answers to the above-mentioned Feng Shui questions don't require floor plans or any further personal data because they are quite broad in nature. Because we do not practice any new age or "black hat" Feng Shui, our advice may be brief, such as "This is symbolic and has no bearing on your personal situation." If we feel that there is more to the story, we will let you know.
For these Feng Shui questions, we do charge as they are based on personal circumstances:
What direction should my head face while sleeping to absorb the best relaxing energy?
Do the energies in my household support the particular career I have?
Locate and activate your unique peach blossom location (each person has a different spot)
Financial struggles: How to activate your personal "universal saving account", determining the ideal direction (just 15 degrees) to absorb good energy for job or career to advancement.
Advice on building an addition to the home
Are there any energy inside the house that contribute to the legal troubles I constantly have?
How to resolve family disputes by putting remedies in specific locations around the house
Placements of water features (fountains) inside and outside the house based on flying star chart
The previous questions are just a brief illustration of what is considered general and specific.
An example of an "Ask Feng Shui Questions" and answer from us
Please see the sample below to get a better sense of what an ask Feng Shui questions and what our response looks like:
QUESTION: I am a graphic designer; which is the best bed placement to support my creativity and financial luck?
ANSWER: Your favorable money spot and creative energy are located in the 15-degree region of NE2, according to your personal Chinese zodiac and year of birth (light green area). Furthermore, your spouse has her own unique wealth direction throughout the entire 45-degree NE portion (darker green area).
Further supporting the recommendation to sleep with your head pointed to the north / northeast wall in your bedroom is the flying star constellation Mountain Star 8, which was identified there. We noticed that John Doe's draining direction (marked red) is on the bedroom's SW wall. It is very unfavorable to point the head towards your own personal draining direction as this can make advancements in career and family matters difficult.
To summarize, the mountain star 8 is very beneficial to one's health and personal luck. Sleeping under the creativity direction supports John Doe's creative and financial luck by absorbing this positive universal energy found in the NE2. Furthermore, his wife can benefit from the beneficial wealth energy while sleeping. A win-win situation for both!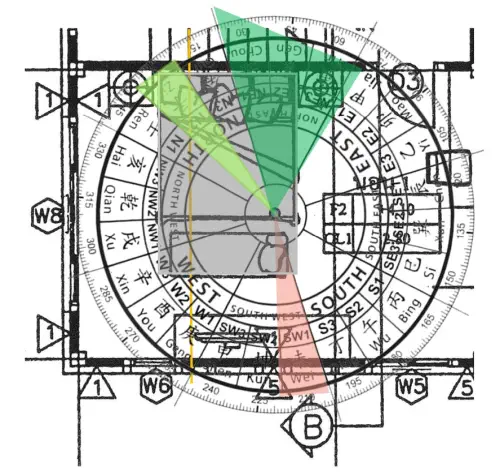 As you can notice, the above example is a highly customized response that is only applicable to John Doe and his wife's particular circumstances.
What information do we need to get started?
Your question (including as many details as possible)
A thorough floor plan layout or sketch is required.
Person's birth date
Compass reading of the home and/or address; alternatively, we can do our own compass reading using Google Maps.
Timeline: We will answer your Feng Shui questions within 24 to 48 hours, from Mondays to Fridays. If we are out of town or during public holidays, the responses may take longer.
In the event that there are any follow-up inquiries from your side, we will store the inquiry on file.
Only logged in customers who have purchased this product may leave a review.